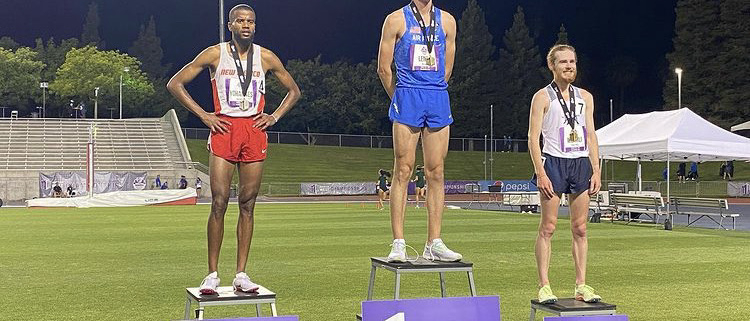 Dubbelt grattis till Awet!
Den gångna veckan har varit minnesvärd för Awet Mengsteab borta i USA. Först tog han sin examen vid University of New Mexico i Albuquerque. Närmare bestämt en Filosofie Kandidatexamen – Bachelor of Arts. Därefter slog han till med två suveräna lopp vid sitt Conference Meet i Clovis, California.
På fredagen sänkte han sitt nysatta personrekord på 3000m hinder till lysande 8.42.02 vilket gav en andraplats. Inte nog med detta. Dagen efter kom han tillbaks och sprang 5000m på 14.35.02 – ytterligare ett personbästa. Nu återstår att se om 8.42 ger en plats vid det amerikanska studentmästerskapen NCAA. Det mesta talar för det. Stort grattis Awet! Du är en förebild såväl sportsligt som akademiskt.
Systrarna Nielsen var sannerligen inte sämre vid sitt Conference Meet, Missouri Valley i Des Moines Illinois. Wilma körde en tuff dubbel. Först försök på 1500m fredag (4.33.54 och heatseger). På lördag försök 800m (2.13.26). Söndagen gav seger på 1500m med 4.23.60. Detta i ett lopp som började långsamt men avslutades med 63.0 på sista 400 meter! Efter 56,5 på inledande 300m hade hon 400-ingar på 75,3 – 68,9 – 63,0! Detta talar för kapacitet kring eller under 4,15 med ett annat utgångstempo.
Efter 1500m hade Wilma bara 60 minuters vila inför 800-finalen. Här öppnade syster Julia hårdast och passerade 400m på 61.75. Sedan visade hon imponerande styrka med 63.04 på andra varvet där hon gled ifrån till en tvåsekunders seger på nya person- och klubbrekordet 2.04.79! Wilma höll undan till silver med 2.06.82. Säkerligen satt 1500-finalen fortfarande i benen. En imponerande dubbelseger för systrarna! Här ser ni Julias imponerande finish
För Julias del var dagen dock inte över. Hon ingick i Bradleys segrande lag på 4x400m (3.41.35). Hon sprang andrasträckan på mäktiga 55.40 sek! Visserligen med flygande start, men ändå!
De enda som var igång på hemmaplan var spjutkastarna Joni och Stina som var i Bålsta på Vårkastet. Tyvärr drog det in regn och rusk så förhållandena var allt annat än idealiska. Joni Kaartinens 66.27m och Stina Jacobssons 43.78m var mot den bakgrunden helt OK. På söndagen deltog även Leo Zikovic i kula P19 som han vann på 17.49m.
http://oisfriidrott.se/wp-content/uploads/2022/05/IMG_3806.jpg
430
750
oisfriidrott
http://oisfriidrott.se/wp-content/uploads/2016/09/OIS_logo.png
oisfriidrott
2022-05-16 14:51:41
2022-05-16 16:31:39
Dubbelt grattis till Awet!