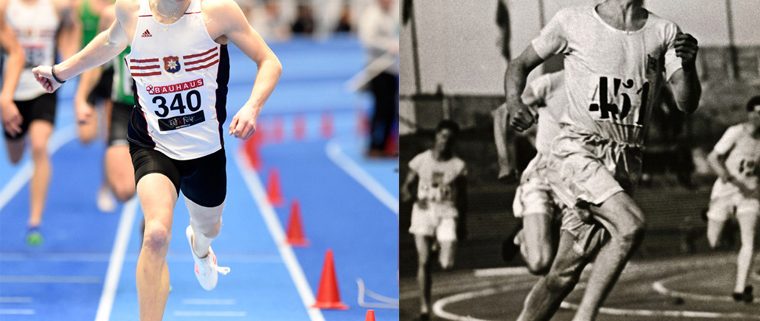 47,6 på 400 meter… nu och 1924!
När Carl Bengtström vann Inne-SM på fantastiska 47,6 så kom jag att tänka på en annan löpare som också sprang på 47,6. Hans namn var Erik Liddell, han kom från Skottland och när han sprang på 47,6 så innebar det att han vann OS-guld i Paris 1924. Han var Skottlands kanske störste idrottshjälte någonsin. Efter OS blev hans missionär i Kina och dog i ett japanskt fångläger i slutet av andra världskriget.
1981 gjordes CHARIOTS OF FIRE, enligt min åsikt den särklassigt bästa film som gjorts om friidrott. Den handlar om Erik Liddell och Harald Abrahams som bägge vann OS-guld. Egentligen skulle också Liddell sprungit 100 meter. Finalen gick dock på en söndag och Liddell tävlade aldrig på söndagar av religiösa skäl. Därför valde han att satsa på 400 meter istället som gick på vardagar. Han hade 8 månader på sig att förbereda sig och han sänkte sin tidigare bästatid (49,6) med exakt två sekunder.
Filmen gjordes på en relativt låg budget men blev mycket populär och vann 4 Oscars! En stor del i detta hade filmmusiken, gjord av Vangelis. Det instrumentala huvudtemat i klippet nedan är fantastiskt bra!
Skulle någon INTE ha sett den här filmen så rekommenderar jag kraftfullt att ändra på det! Den är otroligt inspirerande. Titta bara på klippet nedan när Liddell springer OS-final:
Man noterar också att filmen i motsats till de flesta andra idrottsfilmer är dokumentär, man anstränger sig verkligen att göra detaljerna rätt. Notera att löparen på bana 4 stupar med ca 30 meter kvar. Se sedan på nästa klipp som är de verkliga filmbilderna från OS-finalen:
Mycket riktigt, löparen på bana 4 stupar strax innan mål. Man anlitade till och med en gammal skotsk tränare vid namn Tom McNab för att försöka efterlikna de verkliga förhållandena så långt som möjligt. Han fick till och med löparna att springa med den teknik som man gjorde på 20-talet. Liddell karaktäristiska sätta att kasta bak huvudet i spurten kopierades av Ian Charleson som spelar Liddell i filmen.
Filmen är som sagt otroligt inspirerande. Titta bara på klippet nedan…
Avslutningsvis följer en längre (46 min) dokumentär som visades 2012, strax före OS i London. Det är den sanna historien om Eric Lidell och Harald Abrahams. Chariots of Fire följer visserligen den sanna historien i mångt och mycket, men det finns mycket mer att berätta om dessa två OS-vinnare.
Och som sagt… Den som ännu inte sett filmen – GÖR DET! Bättre friidrottsfilm har inte gjorts.
http://oisfriidrott.se/wp-content/uploads/2018/03/400mix.jpg
500
760
oisfriidrott
http://oisfriidrott.se/wp-content/uploads/2016/09/OIS_logo.png
oisfriidrott
2018-03-02 12:18:58
2018-03-02 12:20:39
47,6 på 400 meter… nu och 1924!