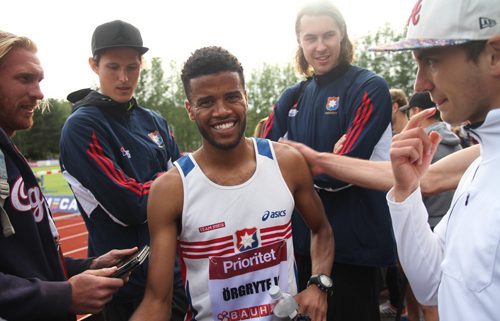 Här hemma är det tävlingsstopp just nu, men vi har några aktiva som tävlat utomlands de sista dagarna.
Awet Mengsteab gjorde sin tredje start för University of New Mexico i helgen. I söndags var det dags för hinderdebut i Lubbock, Texas. Motståndet var inte överväldigande (tvåan 9,40) och han tog en enkel seger med tiden 9.19.06. Kilometertiderna låg på 3,02 – 3,10 – 3,07. En lovande öppning på favoritsträckan för Awet vars personrekord från 2019 lyder på 8.55.18.
Denise Eriksson befinner sig i Malaga, Spanien på läger och tog tillfället i akt att tävla på en mindre tävling arrangerad främst för utländska träningsgrupper. Hon visade storform och blev tvåa på 100m med nya personrekordet 12.05 (+0.4 m/sek). Sedan följde hon upp med raska 24.31 på dubbla distansen (+0.0 m/sek). Med de här tiderna går hon in som trea resp. tvåa på ÖIS alla tiders bästalista.
Ben Blomqvist tävlade på onsdagskvällen i Area Championships i Georgetown. Han värmde upp med höjdhopp där han klarade 1.83m och var riktigt nära på 1.88m. Sedan var det dags för 400m där han återigen imponerade stort och sprang hem segern på 50.13! Hans näst bästa notering efter 49.80 sek. Aftonen avslutade han med att springa slutsträckan för sitt skollag på 4x400m. Det gjorde han på 49.53 med flygande start vilket gav en andraplats för laget på 3.22.86.
Härnäst väntar Regionals om en vecka varifrån endast de TVÅ främsta kvalar in till Texas State Championships. De sistnämnda är en gigantisk tävling med normalt sett packade läktare och stenhård konkurrens. Tävlingen går på University of Texas arena i Austin, Texas den 6-8 maj.
http://oisfriidrott.se/wp-content/uploads/2016/09/SMlag16kung.jpg
334
500
oisfriidrott
http://oisfriidrott.se/wp-content/uploads/2016/09/OIS_logo.png
oisfriidrott
2021-04-15 09:52:10
2021-04-15 13:44:07
Utlandstävlat