Noah Blomqvist – ett hot emot farsan?
Gå in och titta på ÖIS klubbrekordlista, närmare bestämt kulstötning. Då kan man konstatera ett fantastiskt faktum, nämligen att Stefan Blomqvist (född 1965) innehar SAMTLIGA manliga rekord från 12 år upp till seniorklass (19.38m)! Stefan tävlade i ÖIS-linne redan som 10-åring och genomförde sin senaste Castorama 2017 då han vid 52 års ålder fortfarande stötte seniorredskapet över 14 meter. Med andra ord ett spann på 42 år från första och senaste tävling.
Stefan bor ju sedan åtskilliga år i Bourne, Texas och är fortsatt våldsamt engagerad i friidrotten. Som vi tidigare berättat så bildade han tillsammans med sin fru The Hill Country Comets Track Club för några år sedan. Sönerna Ben och Noah tävlar framgångsrik i friidrott och 10-årige Noah (född 2008) verkar kunna bli ett kommande hot emot farsans rekordsvit. Nu senast var han i farten vid en tävling den 13-14 oktober. Då slog han till med fenomenala 10.69m i kula! I USA stöter man med 6 poundskulor vilket innebär 2.72kg, alltså aningen lättare än de 3kg tunga redskap P12 i Sverige använder. Men Noah tävlar i P12 till och med 2020 och farsans 11.80m kommer säkerligen ryka all världens väg vad det lider! Han vann också diskus (1.0 kg) på 22.62m.
Noahs framgångar har uppmärksammats och han var fått flera fina utmärkelser. I februari kommer han få ta emot pris som State Athlete of the year för Texas! Imponerande!
I och med att Stefan är svensk medborgare så har hans söner dubbelt medborgarskap på samma sätt som Armand Duplantis. Det innebär att exempelvis Ben skulle kunna vara aktuell för vårt Kraftmätningslag 2019 om vi kunde få hit honom till finalen. Än är inte säsongen över i Texas så vi får kanske chansen att återkomma med fler rapporter.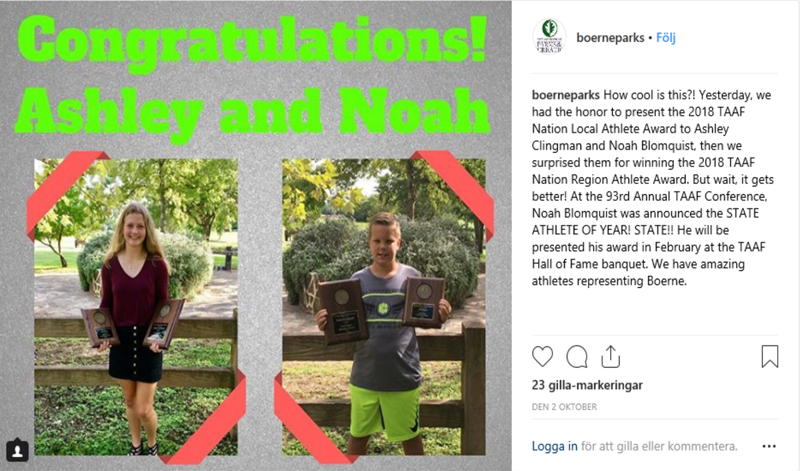 http://oisfriidrott.se/wp-content/uploads/2018/09/HillsCountryTC.jpg
673
1200
oisfriidrott
http://oisfriidrott.se/wp-content/uploads/2016/09/OIS_logo.png
oisfriidrott
2018-10-18 14:10:15
2018-10-18 14:10:24
Noah Blomqvist – ett hot emot farsan?